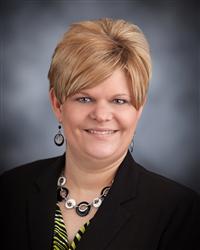 Alesia M Barnhart, GRI
CJ Burleigh Real Estate, P.C.

8410 Executive Woods Dr, Ste E
Lincoln, NE 68512

Contact: Primary Phone: 402-570-0808 Secondary: 402-560-9088
Office: 402-560-9088
Fax: 402-420-9088
E-mail: alesia@welcomehomelincoln.com
Web Page: http://www.welcomehomelincoln.com

My name is Alesia Barnhart. Prior to starting my career with CJ Burleigh Real Estate PC I served in the Army National Guard for eight years and worked full time for the Immigration and Naturalization Service. After obtaining my Bachelor's Degree in Criminal Justice I went to work for the Nebraska State Patrol. I enjoy spending time with my family doing anything outdoors, especially camping and fishing.

I started with CJ Burleigh Real Estate PC in 2009 as an office manager and received my Real Estate License in 2012 and in 2014 I obtained my MRP (Military Relocation Professional) Designation. In October of 2015, I obtained my Broker License and now am the Associate Broker of CJ Burleigh Real Estate PC. I enjoy working in this industry and providing excellent service to my customers. But most of all, I enjoy being a part of your success in achieving your goals...and dreams...of home ownership!!!